"
Gee, you get your head stuck in a bucket for two minutes and you miss so much!
"
Beauty & the Beasts is the eighteenth episode in the first season of Jessie. It aired on May 4, 2012. This episode was seen by 2.6 million people.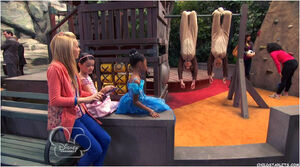 Plot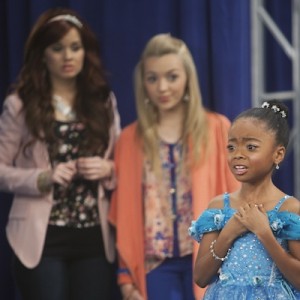 Jessie enters Zuri into the Little Miss Big Apple Competition against Lindsey, a kid who Agatha's watching. But when Zuri can't sing The Star Spangled Banner right, Jessie wants her to lip sync. Meanwhile, Luke and Ravi play practical jokes on Bertram while doing experiments for Ravi's science project.
Cast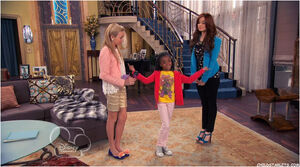 Guest Stars
Quotes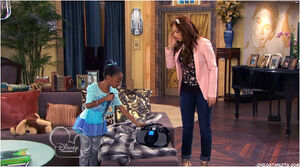 Jessie: First, I'm going to cry, maybe something good will come out of that.
Emma:
Wait a minture. you said who ever loses, and you both lost.
Jessie:
Now you listen to me?! Where were you when I said "Having a penpal in Juvie was a bad idea?"
Trivia
The title of this episode is based on the Walt Disney movie, Beauty and the Beast.
The movie, Dolphin Tale, makes Ravi cry and go through a lot of tissues.
When Zuri tells Jessie that she's gonna enter the Little Miss Big Apple Competition, Jessie told her that beauty pageants are sexist and demeaning to women. Ironically, in The Suite Life on Deck, Cody told Bailey (also portrayed by Debby Ryan) this when she told him she is entering a beauty pageant as well.

Also when Zuri asked how many pageants Jessie lost she repiled 3, Ironically Bailey said she won the Miss Jr. Mulch 3 times at the KettleCorn Mulch Festival.

This is Agatha's second appearance.
This is the only episode to feature a cutaway.
We learn that Emma once had a penpal in juive.
Goofs
Gallery
| | |
| --- | --- |
| | To view the Beauty & the Beasts gallery, click here. |