"G.I. Jessie"

Season 2, Episode 26

Information
Air Date

September 13, 2013

Prod. Code

227-228

Writer(s)

Pamela Eells O'Connell

Director

Rich Correll

Episode Guide
Previous
Next
G.I. Jessie
is a one hour special episode and season finale of
season two
of
JESSIE
. It aired on September 13, 2013. It has been rumored that this is the movie. This episode was seen by 4.8 milion people.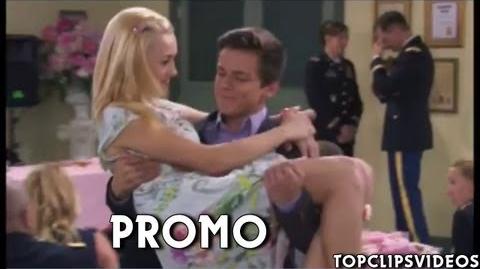 Plot
Jessie's father invites her to the military base where she grew up and reveals that he is marrying her rival's mother. Meanwhile, Darla's brother Caleb takes a shine to Emma and they try to make their relationship work.
Cast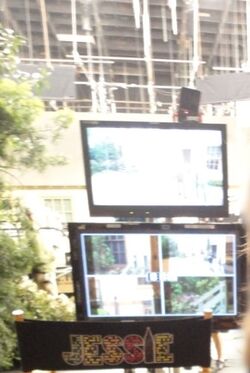 Main Cast
Guest Cast
Trivia
The episode title was G.I. Jessie, a parody of G.I. Joe.
This was the the third Jessie one-hour special event, following Austin & Jessie & Ally: All Star New Year and Jessie's Big Break.

In this episode it is revealed that Jessie's mom died when she was younger.
The majority of the episode does not take place in New York.
In this episode, Jessie quits, but after Luke, Ravi and Zuri save her and Emma, she comes back to the kids as a nanny.
It's the second time Emma painstakingly mentions One Direction, first time in "Quitting Cold Koala".
This episode is the Season 2 finale, but would've been a reasonable series finale for the following reasons:

It is the first episode where Jessie's dad and Darla appear, two characters who have been mentioned several times throughout the series.
It illustrates that family is worth fighting for.
Jessie almost quit because the kids wernt obeying her something they never do in this series. Her job holds this whole series together, without it theyree would be no Jessie.

The episode was first in the part of Friday Night of Premieres right after Wander Over Yonder's episode "The Greatest / The Egg".
This is the Season 2 finale.
Goofs
Much more water should have came out of the water tower that would flood the entire Ross penthouse.
The kids would have gotten in trouble for breaking a water tower, but they got away with it.
When Colonel Shannon throws her bouquet, Emma goes into the group of single women to catch it however she is already in a relationship with Caleb.
Colonel Shannon mentions having knowledge of Area 51 which is supposed to be an Air Force base, not an Army base.
Gallery