Ghost Bummers is the first episode of Season 3 of JESSIE. It first aired on October 5, 2013 as part of the "Monstober" Disney Channel program. This episode was seen by 3.2 million people.
Plot
When
Mrs. Chesterfield
throws a roof-top bash and doesn't invite
Jessie
and the kids, they decide to throw a Halloween party themselves. But their festivities take a haunting turn when Jessie begins to see ghosts and
Emma
,
Luke
, and Mrs. Chesterfield are overcome by ghoulish spirits. Now, it's up to Jessie,
Ravi
, and
Zuri
to defeat the ghosts and save the day and the building.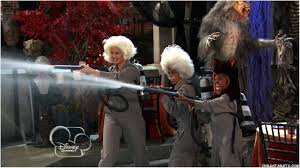 Cast
Main Cast
Guest Cast
Trivia
This episode is based off of the 1984 supernatural comedy film Ghostbusters. References include:

Emma being the Doorkeeper and Luke being

the Codemaster is a parody of Dana being the Gatekeeper and Louis being the Keymaster.
The indigo translucent ghost is an obvious parody of Slimer.
Zorag is a parody of Gozer.
Jessie, Ravi and Zuri use proton packs similar to the ones that Peter, Ray, Winston and Egon used.
Zorag bringing upon the end of the world from the top of the apartment building is similar to Gozer bringing upon the end of the world from the top of the Empire State Building. (Coincadentally, Jessie is based in New York.)
Zuri  saying "Who you gonna call?" 

This is the second time the season premiere episode is a Halloween-themed episode, the first being "The Whining". This is also the first time the episode airs on the same date as another episode and premieres on the same date (October 5th).
This is the second time a Halloween episode of Jessie references a horror film. This episode references Ghostbusters and the previous Halloween-themed episode of Jessie, "The Whining", references the 1980 psychological horror film, The Shining.
Unlike previous episodes of Jessie, this episode was premiered on a Saturday night instead of a Friday night to air on the same date as The Whining.
Due to Cameron Boyce and Karan Brar going through puberty at the time, Luke and Ravi's voices are noticeably deeper than their voice in previous episodes (Seasons 1 and 2).
When they fired their ectoplasm guns, the same sound effects were used when they fired proton packs.
This episode was just Jessie's dream.
This is the Season 3 Premiere.
Emma stuffs her bra with tissue to look like an adult
Gallery
| | |
| --- | --- |
| | To view the Ghost Bummers gallery, click here. |