Good Luck Jessie: NYC Christmas is a one hour-long crossover special with Good Luck Charlie. It aired on November 29, 2013. This episode was seen by 5.8 million people.
Plot
When Teddy Duncan (
Bridgit Mendler
) gets accepted into a college in 
New York City
, she goes to New York, alongside her brother P.J.(
Jason Dolley
), and Teddy meets up with Jessie and Zuri on the subway. When a blizzard traps P.J and Teddy in New York City, while the Ross children find out that someone took away their Christmas presents and they ask Teddy and P.J. to help them out. Meanwhile in Denver, Bob (
Eric Allan Kramer
) and Amy (
Leigh-Allyn Baker
) struggle to know what Charlie (Mia Talerico) wishes for Christmas since they have no knowledge.
In the end, Gabe (
Bradley Steven Perry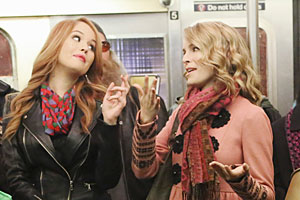 ) knows what she wants.
Cast
Jessie Cast
Good Luck Charlie Cast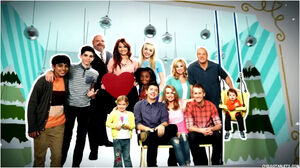 Trivia
This episode is an hour long special.
After Teddy and Zuri "stole" the reindeer, one of

the drawings on the wanted paper displayed Bridgit Mendlers album artwork for her single, "Ready or Not".
Debby Ryan performs her song "Favourite Time of Year" near the end of the special and the end credits.
Ravi receives a chemistry set that knocks the whole penthouse out with vapor.
This is the last episode of 2013.
This episode received 5.8 million views.
This episode was directed by Rich Correll who both worked on The Suite Life On Deck.
The second half of the episode parody's the hit movie The Hangover.
This is the highest rated episode of Season 3.
Video Gallery