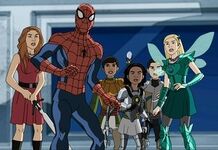 Halloween Night at the Museum is a crossover with JESSIE and Ultimate Spider-Man: Web-Warriors. It aired on October 10, 2014.
Plot
Jessie comes in possession of a medieval sword that Morgan le Fay is after. Jessie and Spider-Man then team up to fight le Fay.
Trivia
This is the 2nd crossover with Disney and Marvel, the 1st was with Phineas and Ferb.
This is the first animated episode, but, it starts off as live-action.
Voice Cast
Drake Bell as Peter Parker/Spider-Man and Security Guard
Grey DeLisle as Morgan Le Fay
Videos
Gallery
Ad blocker interference detected!
Wikia is a free-to-use site that makes money from advertising. We have a modified experience for viewers using ad blockers

Wikia is not accessible if you've made further modifications. Remove the custom ad blocker rule(s) and the page will load as expected.