Jemma



Shipped Characters

Status

Girlfriends

Status

Best Friends

|-



Shipped Characters

Status

Girlfriends

Status

Best Friends
Jemma (J\essie and Emma) is the best friend relationship pairing of Jessie Prescott and Emma Ross. They first met in New York, New Nanny. They both like to hang out together a lot. They are the Best of Friends.
Jemma Moments
Season 1 Moments
Jessie stays up all night to help Emma fix her science fair project.

She tries to convince Emma's parents to attend her presentation.
Jessie asks Emma if anything is wrong, after Morgan and Christina tell her that they cannot make it to her presentation.
After Jessie is fired, she still decides to attend the presentation for Emma.
Jessie gives Emma words of encouragement, before the presentation.
Emma shows Jessie her favorite magazine.
Jessie went shopping with Emma.
At the beginning of the episode, Emma and Jessie are both sitting on the couch.
When Emma acts bitter towards Jessie for her "inappropriate anger," Jessie apologizes almost immediately and Emma is not mad or anything.
Jessie and Emma both get up from the couch after Bertram complains about Mr. Kipling on his leg.
In the first scene at Central Park, when Luke, Ravi and Zuri run off to play, Jessie and Emma are the only ones still sitting on the bench.
Both show concern about Zuri's new "imaginary" friend.
Both Jessie and Emma return to Central Park late at night (along with Luke and Ravi, of course) to find Mr. Kipling and bring him back home.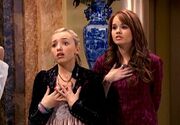 Emma locks Jessie in a closet to get her away from Jordan.
Jessie and Emma are fans of Jordan Taylor.
Jessie is initially angry with Emma for having to break out of her closet, and take a ride back down with a window washer, but let's it go and they hug and makeup with each other.
Jessie asks Emma if it's okay for her to go out on a date with Jordan Taylor.
Emma isn't happy, but Jessie still says she's going out with Jordan.
Emma tips her friend off that Jessie is going out with Jordan.
Jessie tries to cover for Emma by telling Morgan that she was the one who'd spilt that Jordan was staying with them.
They hug and make up again.
Jessie noticed that Emma was wearing a brand new pair of shoes.
Jessie told Emma to "watch and learn" how she walks with the shoes but falls down.
Emma is crushing on a guy named Vincent but Jessie try to warn her he was bad.
She loves and cares for Emma and want's whats best for her.
They make up and apologize.
Zuri and Emma both helped Jessie with her date for Tony.
She compliments Jessie's outfit choices.
Emma was concerned when Jessie was delirious from a bug bite.
Emma used a spork to pop the poisonous bug bite on Jessie's neck.
Season 3 Moments
Emma makes Jessie the Employee of the Month at the end of the episode.
They were sitting next to each other in the kitchen.
Jessie and Emma show Zuri their engagement rings.
Emma looks at Jessie's ring and smiled to make sure it's not fake.
Jessie and Emma wanted Zuri to be their bridesmaid.
They were in Central Park with Zuri.
The group hugged with Luke, Ravi and Zuri.
the other kids said they want Jessie to be happy and seemed supportive.
They were in Jessie's room.
Emma (and the other kids) were so happy that Jessie was staying.
Season 4 Moments
Trivia
Mrs. Chesterfield kept calling Emma "Jemma" in 101 Lizards.
Jessie works with Emma at the Empire Skate Building.
They both have bad luck with guys.
The guy at the DMV mistakes Jessie as Emma's mother in Driving Miss Crazy.
They have a close relationship due to their age being close. (Since their teens/young adults)
Ad blocker interference detected!
Wikia is a free-to-use site that makes money from advertising. We have a modified experience for viewers using ad blockers

Wikia is not accessible if you've made further modifications. Remove the custom ad blocker rule(s) and the page will load as expected.