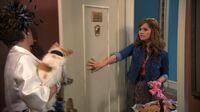 Jessie often makes homemade cookies in various episodes of Jessie. She gives the cookies cool names, pertaining to the situations the characters get themselves into. Jessie's cookies have not been seen since Badfellas, and it is unknown if they will ever be seen again.
Cookie Titles
Ad blocker interference detected!
Wikia is a free-to-use site that makes money from advertising. We have a modified experience for viewers using ad blockers

Wikia is not accessible if you've made further modifications. Remove the custom ad blocker rule(s) and the page will load as expected.