Jessie (Season 3)
Comments

0
373pages on
this wiki
Season 3 of JESSIE was announced on March 28th, 2013. Season 3 begins filming July 2013. Season 3 will premiere in October 2013. It was announced that their aiming for the Airdate of October 11 2013. A Sequel to Creepy Connie is currently in the works for this season, the episode is called Double Trouble.
Disney Channel's JESSIE filmed its last episode of the season (season 2) on March 8, 2013. Cast member Peyton List, posted a photo of her and the cast on her official Instagram account (March 9, 2013) with the message:
Had so much fun at the last '#Jessie' live taping of the season last night!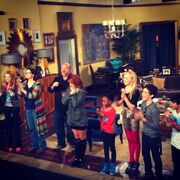 Additionally, a fan of the show, (twitter user @alexirob)
, who went to the live taping which took place on March 8, 2013, posted on her Instagram account
a behind the scenes photo of a signed script of the final episode (episode 26) titled "Diary of a Mad Newswoman"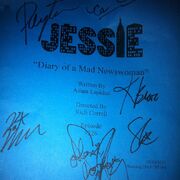 Disney Channel ordered another go-around for the nanny, and JESSIE is scheduled to return in the fall 2013
The tween comedy will wrap its sophomore season — with an assist from guest stars Molly Shannon (Saturday Night Live), Kate Flannery (The Office) and James Patrick Stuart (Supernatural) — in September.