Home
Talk

3
342pages on
this wiki

Welcome to the official Jessie Wiki, a collaborative encyclopedia for everything and anything related to Jessie! There are 342 articles and we are still growing since this wiki was founded. The wiki format allows anyone to create or edit any article, so we can all work together to create a comprehensive database for the Jessie franchise. Don't forget to visit the wiki's Guidelines before editing.
Email us at jessiewikiofficial@gmail.com!


Today is the 23th, and currently there are 46,508 edits to this wiki.




Jessie is an American sitcom that premiered on Disney Channel on September 30, 2011. The series stars Debby Ryan, who used to play Bailey on the Suite Life on Deck. The series was created and executive produced by Pamela Eells O'Connell, a former writer and executive producer on The Suite Life on Deck. A first promo for the show aired during the premiere of Phineas and Ferb The Movie: Across the 2nd Dimension
Jessie Wiki Twitter
Follow us!
Latest Episode & New Episode
Season 2, Episode 1:
The Whining The Ross kids become concerned that history is repeating itself after a scary old doorman tells them a building legend about a nanny ...
Season 2, Episode 2: Green Eyed Monsters Jessie joins a comedy improv class and Tony goes to embarrassing lengths to prove his love for Jessie. Meanwhile, Ravi recruits Zuri to... Read more...
Polls of the Month
Are you excited for season 2?! We know we are!
Jessie and Tony are officially dating! Do you ship them?
Did You Know...
...that JESSIE got picked up for series without a pilot? That's really good!
...Debby Ryan has a big role in creating Jessie?
...the character, Emma, was originally named Anabel?
...the character, Luke, was originally a boy adopted from Korea named Hiro?
...the character, Christina Ross, was originally a photographer named Pandora?
...the character, Ravi, was originally a boy adopted by South America named, Javier, who had a pet capybara instead of a monitor lizard?
...that Brad Pitt and Angelina Jolie, as a prominent celebrity couple with a multi-cultural adoptive family, were the inspiration for Christina and Morgan Ross?
...that Peyton List has a twin brother named, Spencer List?
...that Disney ordered a Disney Channel Original Movie for Jessie? So cool! What do you think it should be about?
...that Skai Jackson's birthday was on Easter (April 8, 2013)?
...Peyton List's and Skai Jackson's birthdays are only two days apart (April 6 and April 8)?
...that last month was Debby Ryan's birthday, March 13, 2013? It was on Mother's Day!
...that May 28, 2012 was not only Memorial Day, but is was also Cameron Boyce's birthday!
...that Suite Life of Zack and Cody's and The Suite Life on Deck's, Phill Lewis, directed 5 episodes of JESSIE? (One Day Wonders, Creepy Connie Comes a Callin', Christmas Story, Beauty & the Beasts and A Doll's Outhouse)?
...that Cameron Boyce guest starred in Good Luck Charlie as fake Gabe?
...that Kevin Chamberlin and Peyton List both had guest appearences on "Law & Order: Special Victims Unit?"
...that Karan Brar and Peyton List both starred in the movie Diary of a Wimpy Kid: Rodrick Rules?
Helping Out
To add more Did You Know, click here.
To write a new article, just enter the title in the box below.
Featured Episode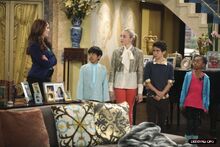 "Glue Dunnit: A Sticky Situation" is the sixteenth episode in the first season of Jessie. Jessie is tasked with ungluing Mrs. Chesterfield's hands from her head, while Ravi attempts to uncover who switched Mrs. Chesterfield's hair gel with glue. Meanwhile, Jessie and Tony plan a date together. It was revealed that Zeus was the one who replaced Mrs. Chesterfield's hair gel with glue. Read more...
Featured Pairing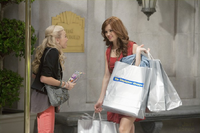 Jemma (Je/ssie and E/mma) is the friendship pairing of Jessie Prescott and Emma Ross. At first, Emma wasn't to fond of Jessie, when they first met in the episode, New York, New Nanny. Jessie shows that she cares and helps Emma with her science project which changes Emma's opinion about her. Jessie strongly cares for Emma as well as the other Ross kids. In the episode, Badfellas, Jessie did not want Emma dating Vincent Liotta, a well known bad boy. Jessie cared for Emma's safety and wanted her to be in the right place. Emma often likes to give Jessie fashion advice and likes to have "girl talk" with her. She may do or say it in insulting ways but she always means well. Jessie and Emma have a close bond whether, arguing or just laughing together. Read more...
Featured Page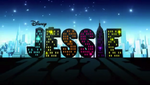 The JESSIE film is the currently untitled Disney Channel Original Movie based off of the hit show, JESSIE. The movie was announced on March 10, 2012 along with the renewal of the second season. The movie will begin filming in summer 2012, as confirmed on twitter by Skai Jackson. Not much is known about the movie. Read more...
Vote for Featured
New featured voting coming soon!
Jessie Fanon Wiki
If you wish to create or edit  Fan-made material or episodes, please visit


Next Episode

Trashin' Fashion will air in...
November 30, 2012 19:30:00 CST Please enable javascript on your browser.
Help
<center>

Do you have any questions?




Ask one of the admins.
Featured Character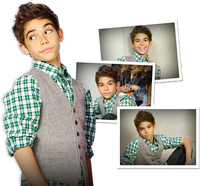 Lucas "Luke" Ross is a 12 year-old boy, the second oldest of the Ross kids, who was adopted by Morgan and Christina Ross at the age of 5 from Detroit, Michigan. He is a huge prankster who is very into dancing, video games, and girls. He has developed a crush on Jessie since the moment he first saw her. He's always trying to get her attention and likes to turn on the charm when she's around. Luke's pranking usually centers around his brother, Ravi and the butler, Bertram. Although it can get him into big trouble sometimes, he continues to do it and enjoys every minute of it. Luke loves his partner in crime sister, Zuri and even though she irritates him, his sister, Emma. Luke is a lovable guy whether he's hitting on Jessie, pranking Bertram, or dancing at Central Park. Read more...
Featured Cast Member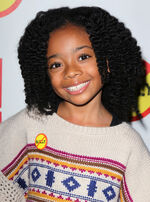 Skai Jackson (born Apil 8, 2002) Skai Jackson is American actress who co-stars as Zuri Ross in the Disney Channel sitcom JESSIE. Jackson was born in New York City. She began her career as a child model appearing in numerous national commercials, including for Band-Aid bandages. Her first major acting role was in the independent film Liberty Kid (2007). Followed by other films such as Rescue Me (2008) and The Rebound (2009). In 2009, she was cast member of the Nickelodeon pre-school animated series Bubble Guppies playing role of Little Fish. From 2010 to 2011 she guest starred in the television series Team Umizoomi, Royal Pains and Boardwalk Empire. She also had small role roles in the 2011 films Arthur and The Smurfs. Read more...
Featured Quote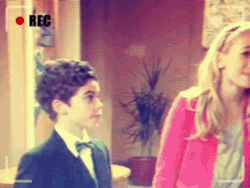 (Click the picture)
Featured User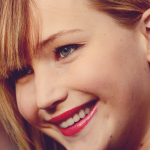 Flynalover is one of the admins here at the Jessie Wiki. She first started editing in September 2011 and became admin in October 2011. Flynalover's most frequently edited wiki is the A.N.T Farm Wiki, as it is one of her favorite shows. Flynalover is a huge Taylor Swift fan! Another one of her favorite singers is China Anne McClain, who is also one of her favorite actresses, along with Debby Ryan. She loves the show, Jessie, and thinks it is very funny! Here's what she had to say about the show, "I think it's one of the funniest shows on Disney! Jessie is hilarious! I love all the characters, especially Jessie, Zuri, Emma, Luke, Ravi, Bertram, and Tony. Wow, I listed like every character! The cast is so great. I really like this show. :)" Read more...
<Song>