Nikki Hahn

Information
Full Name

Sofia Nicole Hahn

Place of birth

San Antonio, Texas, U.S.

Born

November 13, 2002 (age 15)

Occupation

Actress

Years Active

2006-present

Nationality

Texan

Role
Sofia Nicole "Nikki" Hahn
(born November 13, 2002) is an American actress. She is best known for her role as Sophie Hanks in a comedy skit on
Jimmy Kimmel Live
, playing Tom Hanks's daughter. She portrayed
Lindsey
on
JESSIE.
Early life and career
Hahn was born in San Antonio, Texas, U.S.A. She is an only child, and comes from German, Spanish/Mexican and French ancestry. Hahn began her career as a child model at the age of 3 and began working commercially at the age of 4. Soon after, she began guest starring in television shows. In 2009, Hahn appeared in CSI: Miami as Maggie Rush, a little girl whose mother is trying to regain custody of her, and in NCIS: Los Angeles as Elly Johnson, a young girl whose uncle is a suspect in a murder investigation.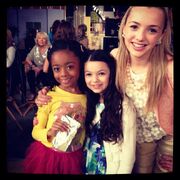 In 2010, Hahn had a small role in the Nickelodeon show iCarly as a young girl that Gibby scares. She also was seen in The Closer as Cody Tatem, a girl whose mother, a drug addict, possible committed suicide, and father is dying. Hahn also had a small role in Criminal Minds as Abby Sanderson in the episode "25 to Life".
In 2011, Hahn was seen as Tom Hanks's daughter Sophie, a young pageant girl that appears on the show Toddlers & Tiaras in a comedy skit for Jimmy Kimmel Live, as well as another comedy skit playing Topher Grace's daughter in a Pie Face commercial. Hahn will also appear in her first feature film entitled The Secret Life of Dorks as James Belushi's daughter.
In the summer of 2011, Hahn worked with Teri Polo and Esai Morales in the Lifetime movie "We Have Your Husband". She plays the role of Maria Valseca, daughter of Jayne and Eduardo Valseca. The story is based on the book "We Have Your Husband: One Woman's Terrifying Story of a Kidnapping in Mexico" by Jayne Garcia Valseca and Mark Ebner. The book retells the true life kidnapping of Eduardo Valseca in Mexico.
Filmography
Year
Film
Role
Notes
2009
CSI: Miami
Maggie Rush
Television series (Episode "Collateral Damage")
NCIS: Los Angeles
Elly Johnson
Television series (Episode "Brimstone")
2010
iCarly
Kindergartener #3
Television series (Episode "iFix a Pop Star")
The Closer
Cody Tatem
Television series (Episode "In Custody")
Criminal Minds
Abby Sanderson
Television series (Episode "25 to Life")
2011
Jimmy Kimmel Live
Sophie Hanks
Television comedy skit
Pie Face girl (with Topher Grace)
Television comedy skit
Katie plus 80 (Katie Couric's daughter)
Television comedy skit
Marley & Me: The Puppy Years (Herself)
Television comedy skit
Wilfred
Little Girl
Television series (Season 1 Episode 3)
We Have Your Husband
Maria Valseca
2012
The Secret Lives of Dorks
Gale Sara Ralph
Post-production
Fish Friend
Sally
Short film
Childrens Hospital
Carrie
Television series (Episode "Human Pinatas")
JESSIE
Lindsey
Television series (Episode "Beauty & the Beasts")
2013

Riding 79

Sunny

Pre-production