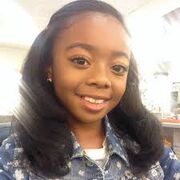 Birthplace:
Staten Island, New York
Nationality:
Trinidadian-American
Birth date:
April 8, 2002 (age 11)
Years Active:
2007-present
Skai Marie Jackson (born April 8, 2002) is an American actress. She is best known for playing various roles in the movie the Smurfs and the commericial Band-Aide. She currently stars as Zuri Ross in the Disney Channel sitcom JESSIE.
 Early Life and Career
Skai Jackson was born on April 8, 2002 in Staten Island, New York to Kiya and Jacob Jackson. As a  young gir; she  appeared in several commercials and shows such as Band-Aid bandages and Kick Buttowski: Suburban Daredevil (2010- 2012). She is also a child model.
Her first major acting role was in the independent film Liberty Kid (2007). Followed by other films such as Rescue Me (2008) and The Rebound (2009). In 2009, she was cast member of the Nickelodeon pre-school animated series Bubble Guppies playing role of Little Fish. From 2010 to 2011 she guest starred in the television series Team Umizoomi, Royal Pains and Boardwalk Empire. She also had small role roles in the 2011 films Arthur and The Smurfs.
In 2011, she was cast as Zuri Ross in the Disney Channel sitcom Jessie.
Filmography
External links
●

Twitter page
●

Facebook page
● Skai Jackson at
Photo Gallery
To view the Skai Jackson photo gallery, click here.