"
I already took care of the bathroom thing. You don't wanna know!
"

"Take the A-Train... I Think?" is the 11th episode of the first season of Jessie. It aired on January 27, 2012.
Promo
Overview
To the kids' dismay,
Jessie
has
Emma
,
Ravi
, and
Zuri
take the subway to the cultural fair for Emma's social studies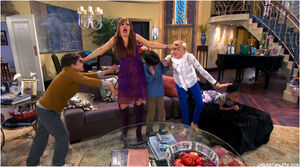 assignment for Battery Park because
Emma
put the project off, but
Jessie
has trouble reading the map and they keep taking the wrong train further uptown to Washington Heights, Chinatown, and Yorkville. Meanwhile,
Bertram
and
Luke
look for a pesky spider that has made its home in the apartment. We learn that they have a fear of spiders.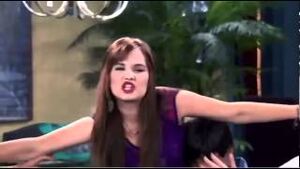 Cast
Guest Stars
Trivia
When Bertram and Luke are gettting ready to use the spider spray and Bertram says "saynaora spidy" and Luke says "he's woven his last web" they do so in a voice like green gobilin from Spider-Man
Goofs
Memorable Quotes
Jessie
: OMG, I am turning into my dad. All I need is a crew cut and a weird desire to have someone punch me in the stomach.
Luke
: Bertram, you've already failed at life. I've still got a life full of failure ahead of me."
Luke:
Here's the plan, You charge at him, and if he goes right, you hit him with this.
Bertram: What if he goes left?
Luke: You hit him with this.
Bertram: What if he comes right at me?

Luke:
Game over.
References
Gallery
| | |
| --- | --- |
| | To view the Take the A-Train... I Think? gallery, click here. |
Ad blocker interference detected!
Wikia is a free-to-use site that makes money from advertising. We have a modified experience for viewers using ad blockers

Wikia is not accessible if you've made further modifications. Remove the custom ad blocker rule(s) and the page will load as expected.