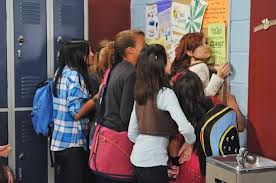 Walden Academy Public School is a school in New York that appears in several episodes of JESSIE.
Known Students
Zuri Ross (finally shown in season 2)
Vincent Liotta (former)
Dale Davenport (former)
Charlotte Denbar
Becky Greenburg
Tina Popadocus
Billy 
Janet
Lisa 
Daisy
Kelly
Michael
Blake
Rina
Chauncy
Britta
Jax
Lake
Vivica 
Apollo
"Gassy" Gus (Teacher's Pest)
Other Unnamed Students 
Known Staff
Trivia
It includes Elementary School, Middle School and High School.
The Middle School could be in one building, the Elementry School could be in the other one and the High School may also be in another one.
Elementary School = Grades K5
Middle School = Grades 6-8
High School = Grades 9-12
In the real world, there is a Walden Academy in Willows, CA.