We Are So Grounded is the twenty-second episode of the first season of Jessie. It first aired on July 13, 2012.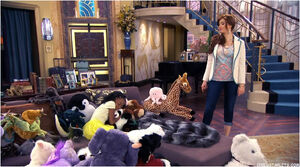 Plot
Jessie
,
Bertram
, and the Ross kids head to
Bali, Indonesia
for a family vacation, but when their private jet starts to fail, Jessie takes control of the cockpit and makes an emergency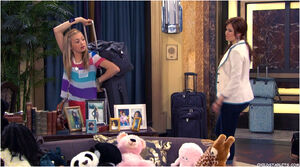 landing on a tropical island in the
Pacific Ocean
. Jessie must figure out how to get the kids home safely, all while recovering from poisonous bug bites, escaping scary monsters, and tracking down
Mr. Kipling
.
Cast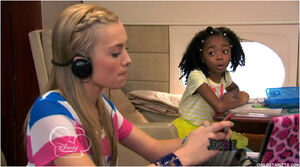 Main Cast
Guest Cast
Quotes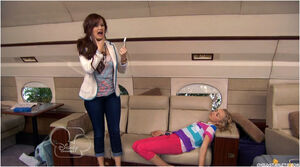 Bertram:
No! I don't wanna go! I wanna stay here with no responsibility in these really comfy clothes.
Jessie: Bertram, there's no 2-ply toilet paper here.
Luke: There's not even single ply!
Bertram: Outta my way! (climbs up ladder, pants fall off) Can you get that for me?
All: EWWW!

Zuri:
I'm blind!!!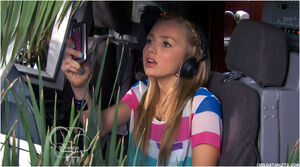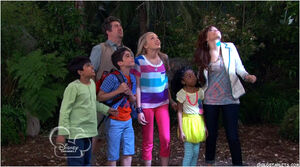 Scientist, talking to Luke: Island of the Monsters! That legend got me my fake monster! If you stayed a little longer, I would have brought out... (puts on mask) Crab Woman!
Zuri: You are all kinds of weird!
Jessie, Ravi: AHHH!!!
Jessie: Idiot! (throws mask, hits Bertram)
Bertram: OWWW!
Jessie: That sounded like Bertram!
Luke: Yeah, I'd recognized that whine anywhere!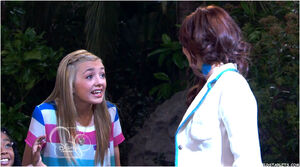 Trivia
This episode was part of Disney Channel's "Summer Adventure Weekend".
This episode was promoted as the sequel to Take the A-Train... I Think?.
Disney Channel promoted this episode under the title, "Lost in the Jungle". The episode Take The A-Train... I Think? was also promoted by Disney Channel as 'Lost in the City. Ironically, this episode was promoted as the sequel to that episode, which could

be a reason why both episodes start with 'Lost in the...' (promotional titles).
Bertram's hoarding obsession has been mentioned, although, he got rid of all of it.
This is the second time a JESSIE episode aired on Friday the 13th. The first was Glue Dunnit: A Sticky Situation.

The blue-breasted gooby is a parody of the real animal, the blue-footed booby. The "breasted" part of the name is a reference to the word "booby" in the real animal's name. This is one of the few times that Disney has ever used dirty humor.
Since Mr. Kipling revealed to be a female in The Secret Life of Mr. Kipling, it is probable that the "sweetheart" wild lizard in this episode was a boy.
Goofs
Bertram gave up wearing pants, but you can clearly see that his shorts are under the skirt.
When Dr.Adams takes his fake claw out of the door, the hole is no longer visible in the next cut.
Gallery
| | |
| --- | --- |
| | To view the We Are So Grounded gallery, click here. |