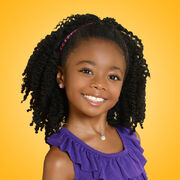 Zuri Zenobia Ross (born November 1st,2004) is the youngest child of the Ross family. Her adoptive parents are Morgan Ross and Christina Ross. Zuri has three older siblings, Emma, Luke, and Ravi Ross. She was adopted from Uganda at birth.
Zuri Ross is portrayed by Skai Jackson.
Personality
Zuri is the nine year old daughter of Morgan and Christina Ross. She was adopted from Uganda and is the youngest Ross child. Zuri is very sassy, sarcastic, and mischievous,and has a big imagination. She enjoys talking to her stuffed bear, Chubby, and her imaginary friend, Milly the Mermaid. She is also very lovable and has a special bond with all three of her siblings, as well as Jessie, Bertramand her parents. 
Description
Zuri is very cute. She is dark-skinned, with curly black hair that she usually leaves down. Her fashion sense is very girly like her sister Emma. She enjoys wearing bright colors and loves tutus. Zuri also loves bows and tiaras. Like Emma, Zuri has a passion for fashion.
Relationships
Emma is Zuri's older sister by seven years. They love hanging out with each other and enjoy each other's company. Emma braids Zuri's hair occasionally and Zuri sits on Emma's lap a lot. She helps Emma with her fashion web cast Kitty Couture by making stuff such as litter boxes and steaks. Their real ship together is very nurturing and they love eachother.
Luke is Zuri's oldest brother. She tends to blame Luke for the mess she makes during bad situations. Luke always finds a way to get her back. Quitting Cold Koala explains Zuri's relationship with Luke the most. She keeps on teasing and taunting him about Kenny the Koala, until Luke reveals why Kenny's so important to him, ending with Zuri apologizing and lending Kenny an eye from one of her dolls when he is broken. Overall, Luke and Zuri are partners in crime. They participate in many mischievous activities together, such as prank calling people on Jordan Taylor's phone (Star Wars), and always pranking Ravi (Used Karma).
Ravi is Zuri's second oldest brother. Zuri and Ravi are extremely close. They care for each other a lot.
Jessie is Zuri's nanny. She and Jessie have a very close mother-daughter-like relationship. Jessie gets worried whenever Zuri talks to her imaginary friends too much or doesn't do her homework at all, but Zuri still listens to her eventually. Jessie always has her back whenever she gets bullied. For instance, in World Wide Web of Lies, Jessie defends Zuri when she gets harrassed by Agatha and Axel. At other times, Jessie tries to get Zuri to listen to her, but almost every attempt fails, like in Badfellas, Zuri refuses to leave her tree in Central Park, no matter how many times Jessie forced her to do so. Also, Jessie was the only one to find out about Zuri's amazing chess skills. Overall, they have a wonderful friendship.
Zuri's butler. Bertram seems to care about her the most out of all the Ross children, but he never shows it, unless absolutely necessary. Zuri also feels the same way about Bertram, but she loves to tease him about his weight and other things mentioned over the series. She especially likes to challenge him in various skills, as seen in Creepy Connie's Curtain Call, where she and Bertram have a contest to see who's a better butler.
Appearances
Season 1
Season 2
Season 3
Trivia
Gallery
To view the Zuri Ross gallery, click here.